Course details
30 kinds of authentic Asian cuisine boasted! 【All you can eat 120 minutes】 Course 2980 yen → 2500 yen!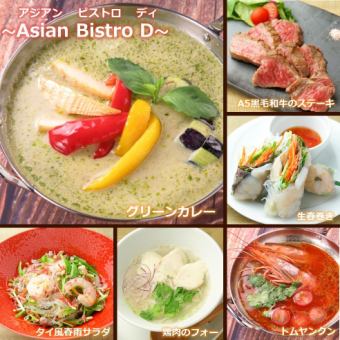 By using a coupon2500 Yen
30 popular types such as Tom Yankun · Gapao · Green Curry · Raw Spring roll!
Reservation deadline

Coming to the store until the day 12 o'clock desired date
Available days for reservation

Monday - Sunday - Public holidays - Holidays
Sendai first !!? All you can eat all you can eat authentic Asian cuisine specialty store! All you can drink soft drinks at + 500 yen.
Course menu
★ All-you-can-eat ★ ★
※ There will be no cooking place, so it will be cooked after you receive the order, so get a little time.
Please give me an order earlier.Also, I ask that you do not have any leftovers.
【Appetizer】
Mushrooms
· Pakuchi Spring Harumaku
Ebisen
· Oriental Potato Fry
【Main】
· Stir-fried black pepper with porky and pork
· Thai chicken thigh meat grill
· Ethnic chicken fried chicken fried pickles sauce
· Stir-frying pork chilli in oil
· Stir-fried Thai style vegetables
· Stir-fry the chicken cashew nuts
· Stir-fried seafood with red curry
· Stir-fry the seafood with Gapao
· Stir-fry the clams and bean paste of Nampula
· Stir-fried pork with red curry
· Simmered vegetables with coconut
· Porky eggs
【Salad】
·Thai style vermicelli salad
· Ethnic salad
【Soup & Curry】
· Green curry
·Red curry
· Yellow Curry
·Tom yam kung
【Rice & Noodles】
· Thai Fried Rice
· Porky fried rice with ground pork and dried shrimp
·Nasi goreng
· Mie Goreng
· Seafood fried noodles
· Gapaoraisu
[Dessert]
· Mango ice
· Coconut ice
All you can eat ※ LO 30 minutes ago
※ All you can eat is chicken → domestic chicken, red shrimp → baname shrimp will be changed.
Please note!
2018/10/19 update