Course details
【Asian Deluxe Course】 10 dishes + 120 minutes with unlimited drinks 4860 yen → 4500 yen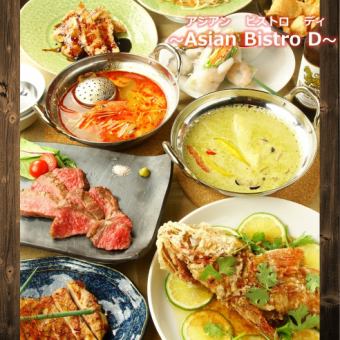 By using a coupon4500 yen
◆ 8% OFF by using coupons! ◆
All-you-can-drink available

All you can drink menu * All you can drink premium at LO 30 minutes ago ★ + 500 yen
Reservation deadline

Until 22 o'clock on the desired date of coming to the store
Available days for reservation

Monday - Sunday - Public holidays - Holidays
All-you-can-drink for 2 hours!
Course menu
★ ☆ Women's Association (female only group) is all you can drink sparkling! ☆ ★
Ebisen
· Raw spring rolls
·Tom yam kung
· Thai style snowy chicken grilled chicken
· Spicy sauce with raw oysters
· Today's deep fried garlic sauce or chili club
· Kuroge Wagyu beef steak
· Green curry with plenty of vegetables
· Jasmine rice
·dessert
In addition, + 500 yen for 1 hour all-you-can-drink all-you-can-eat all-you-can-eat and all-you-can-eat LO 30 minutes ago
* Seating hours may be up to 180 minutes, and congestion may be 120 minutes.
All-you-can-drink menu
·draft beer
· Carlsberg
·sour
· Lemon Sour / Cola Lemon Sour / Ginger Lemon Sour / Salmon Lemon Sour / Lime Lemon Sour / Toma Lemon Sour / Red Lemon Sour / Blue Lemon Sour / Green Lemon Sour / White Lemon Sour / Yellow Lemon Sour
·sour
· Tomato Sour / Salt Tomato Sour / Sour Grapefruit / Plum Sour / Orange Sour / Rhamnesaw / Banana Sour / Calpis Sour / Mango Sour / Coconut Sour / Tropical Sour
· Shochu high
· Green tea high / Oolong high / Lemon high / Grapefruit high / Orange high / Calpis high / Ume high
· Whiskey · Highball
· Horn / Jim Beam / Mekong ※ High Water Ball / Cork High Ball / Ginger High Ball / Lemon High Ball / Lime High Ball / Mint High Ball
·wine
· Glass wine (red · white)
·Cocktail
· Shandyuga / Tropical Shandigerf / Red Eye / Cassis Orange / Cassis Grapefruit / Cassis Oolong / Cassis Soda / Fazy Neckl / Peach Grapefruit / Reggae Punch / Peach Fizz
·Cocktail
· Gin tonic / Drysin tonic / Jim bag / Tropical gym bag / Jin Ricky / Orange blossom / Gin grapefruit / Vodka tonic / Dry vodka tonic / Moscow turret / Tropical Moscow / Screwdriver / Bulldog
·Soft drink
· Green tea (Ice · Hot) / Oolong tea (Ice · Hot) / Brown rice tea (Hot) / Hojicha (Hot) / Tea (Hot) / Orange juice / Grapefruit juice / Calpis / Calpis soda / Cola / Ginger ale / Coconut water / tomato juice
· Premium course at ★ + 500 yen
· Bottle wine, except bottled champagne, all drink menu & glass champagne
2018/12/01 update